It's our pleasure to welcome you to the NetTech Consultants Blog. NetTech has been a staple IT Company in the jacksonville area since 1995. As we've grown and served many clients over the years we've accrued quite a bit of knowledge about how to keep IT operations running smoothly, and how to leverage IT as a strategic asset to your business. This blog is our chance to give back some of that knowledge by creating a repository of resources to help you get armed with the knowledge necessary to improve your operations, leverage the help of the right IT partner, and manage the cyber risks in the small business landscape.
Who This Blog Is For
NetTech serves clientele in a disverse set of industries in the small and middle market but most of the businesses we help are in the 5-100 employee range and in the medical, legal, or nonprofit sectors. We help these Jacksonville and surrounding area clients with outsourced IT functions such as device, server, and network management, and private cloud solutions.
Small businesses in that 5-100 employee range that are growing and experiencing the pain points of growth in that range such as policy writing, establishing IT processes, managing the risk of internal cyber threats, hiring, training, and retaining internal IT resources, are prime candidates that will benefit from following along with our blog.
How To Follow Along
For those interested in following along with the NetTech Consultants blog, the best way is to pop over to LinkedIn and give us a follow as we will post regular updates when new blog content is released. You can also check back here on our website regularly, or subscribe to our feed, as we will release new content at least monthly.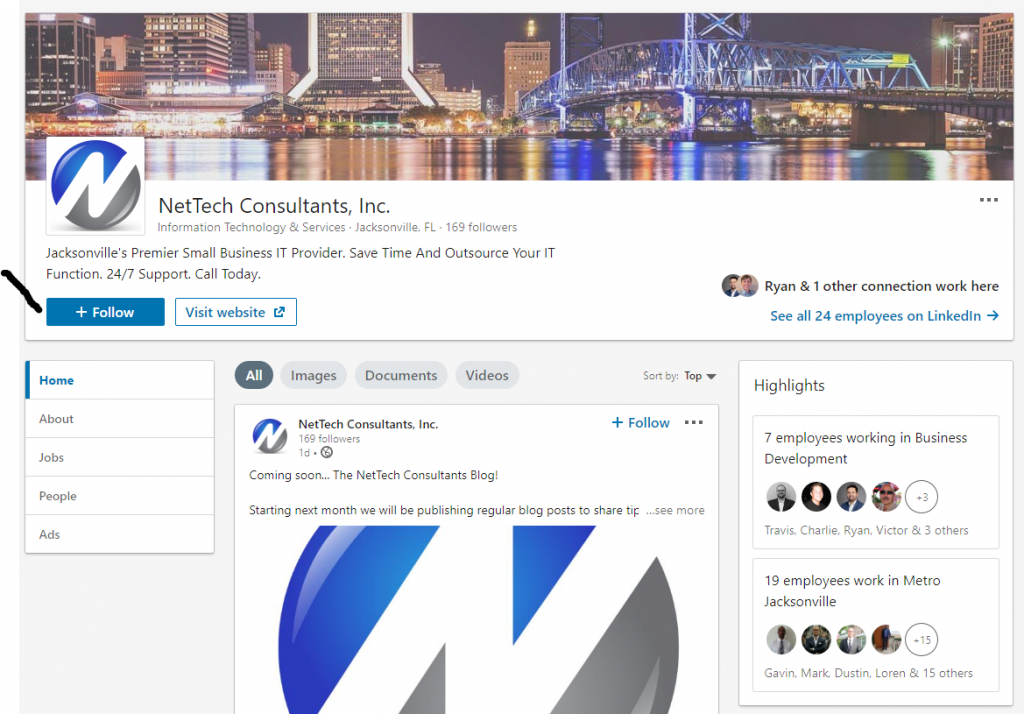 We want this to be a valuable resource for you, if you have any suggestions, requests for a post, or just want to learn more about our services, send us a message. We look forward to serving you and hope that you enjoy reading.