As a leading healthcare investor in Jacksonville, Florida, you need to be aware of this sector's threats. Lately, the medical industry has seen ransomware attacks and other cyber challenges such as business email compromises, insider cyber threats, data breaches, and Distributed Denial-of-Service (DDOS). The healthcare industry should be the last sector that cybercriminals should attack, but there are no exceptions when threat actors look to make money. Unfortunately, cyber threats are not slowing down. As such, it's critical to introduce business continuity management (BCM) in your medical facility to prepare in advance.
BCM will keep your organization operational when such threats strike.
What is Business Continuity Management (BCM)?
Business continuity management (BCM) is an organizational framework and procedure formulated to identify possible threat exposures. In this framework, an organization lists all external and internal threats while highlighting the appropriate measures to deal with such threats.
In this case, a business continuity plan will give your medical company the ability to respond to the cyberattacks discussed above. Additionally, your business will be aware of the likelihood of cyberattacks and the appropriate actions to consider when these threats become a reality.
Notably, a business continuity plan is not only critical in dealing with cyberattacks. This is only one of the areas where it can bring peace of mind. However, this strategic plan also helps in addressing other threats to your business, such as:
Weather incidents such as tornadoes and hurricanes
Supply chain disruptions
Operational failures and stalls
Technological outages
On-premise accidents, etc.
What is the Purpose of Business Continuity Planning?
The current data indicates that 1 in 2 businesses experience an extended break in continuity after disruptions. In addition, a significant percentage of companies in various industries don't recover at all. That's why you should focus on incorporating a business continuity plan in your medical facility. Its ultimate objective is to keep your organization running productively and smoothly in an emergency.
According to Verizon Business Report, 28% of data breaches in the country today affect smaller companies. Therefore, your medical facility will encounter a human-caused or natural disruption at some point. Business continuity management ensures that, when such disturbances occur, they're contained and controlled before affecting your company.
As discussed below, business continuity management will offer other benefits to your medical organization.
1. Organizational Assurance
Today, people are highly concerned about the preparation of their community organizations if a disaster occurs. Therefore, you need to ensure that people leading your medical facility have the necessary plans to deal with disruptions. Other significant parties that require an assurance of your organization's preparedness include partners and third-party vendors.
You also need to comfort your workers and inform them of the steps you've incorporated at the company to deal with possible eventualities. Clear communication between management and the employees helps to eliminate potential confusion that tends to strike organizations experiencing an emergency.
2. Continued Service Excellence
Healthcare organizations play a central role in any community. Slight disruptions can easily pose some huge healthcare threats to the people who have been accessing services from such facilities. This was a common trend when the majority of the medical facilities were overwhelmed by COVID-19 infections.
However, your Jacksonville medical facility will quickly deal with extreme cyber emergencies with a business continuity plan. Your operations will pick up where they left off, which means you'll continue to serve your customers and deliver the expected value while maintaining the integrity of your medical facility.
3. Decreased Downtimes
Gartner indicates that technology outages cost small and medium businesses around $5,600 per minute. The more your organization remains grounded, the higher the losses. Therefore, the objective should also ensure that your medical facility resumes its operations immediately after a cyberattack.
Typically, small and medium enterprises take two days to resume operations after a significant cyberattack. However, those with a business continuity plan resume operation immediately. In addition, there are substantial financial benefits to companies with such plans.
4. Risk Management
Some disruptions can quickly escalate and lead an organization to massive failures. Previously, some simple troubles have snowballed into existential organizational crises due to poor continuity management plans. For example, approximately 100,000 businesses closed their operations permanently after COVID-19 disruptions.
Business recovery plans also play a vital role in managing risks. They focus on managing the costly risks by ensuring there are seamless and efficient management approaches that will prevent catastrophic failure.
5. Enhanced Business Reputation
Customers are consistently analyzing how entities maintain their reputation and brand image in the face of adversity. Unfortunately, organizations in the medical industry don't have much room to make mistakes. Slight errors in addressing disruption and a medical facility plummet into deep reputational crisis.
Today, cyber threats have led to reputational damages in various organizations. Therefore, you need to have continuity plans to protect healthcare records against infiltration and ransomware. This will help maintain the reputation of your medical clinic in case of extreme cyber issues.
6. Maintain a Competitive Edge
You're not the only medical facility in Jacksonville, FL. Other healthcare facilities are also working hard to attract your clients. Therefore, you must be in a perpetual mood of improving your operations and provide for unseen threats that can harm your business.
If you have a recovery strategy in place, it will be easier to maintain your operations. But, at the same time, other medical facilities will be stuck in a cyber-attack affecting your region. So, you'll undoubtedly stand out as a company that customers can count on.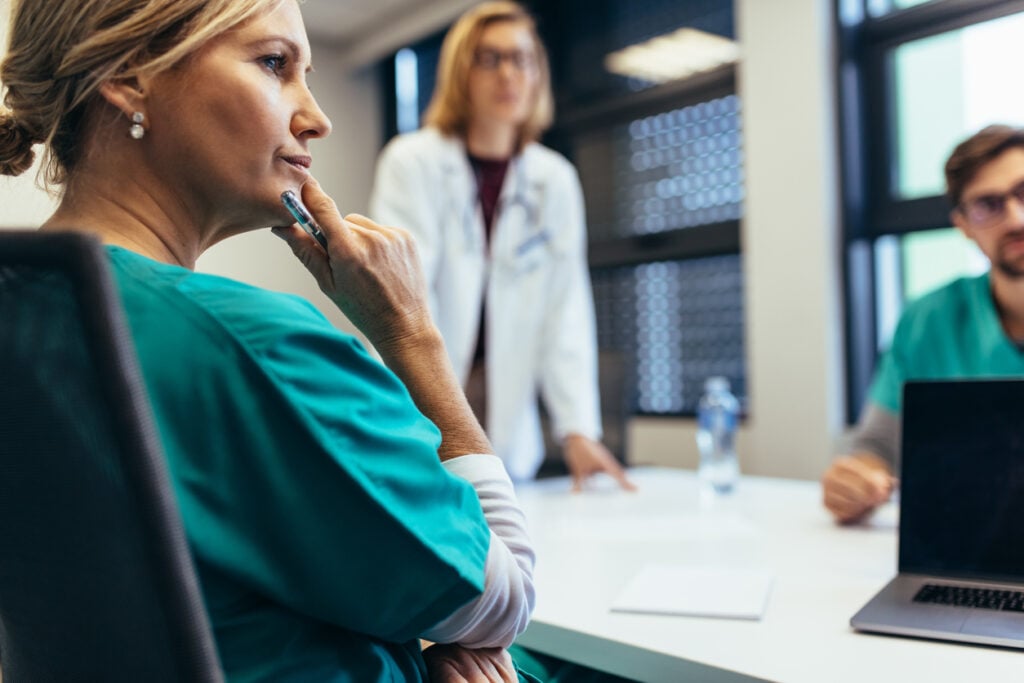 How Can You Create a Business Continuity Plan?
If you don't have a business continuity management plan in place, here are some simple steps you can follow.
1. Conduct a Business Impact Analysis
In this case, you've to determine your most valuable operations. Next, the personnel and technology that undertakes such procedures should be defined. The ultimate objective of conducting an impact analysis is to determine how disruptions will affect your organization.
Also, business impact analysis helps to determine areas of vulnerability. If you already know the weak spots that hackers can exploit, you can develop the necessary measures to address such weaknesses.
Importantly, business impact analysis presents a clear picture of your organization's threats. It also highlights the expected losses and downtime projections. This information will help you to formulate a business continuity checklist.
2. Explore Recovery Options
With a business impact analysis in place, your medical facility can now move into the next step-vetting possible replacement options. Remember, replacement and recovery strategies are the backbones of your organizational continuity.
You already know the weak areas that can attract hackers into your organization. Therefore, you should be working on the possible infrastructure that can minimize threats.
Identifying the gaps is not enough. Instead, you need to go into the next step and determine the next cause of action. It's the only way to close the gaps as well as deter the risks likely to disrupt your organization.
3. Create the BCP Framework
You've identified the risk areas and formulated the necessary replacement strategies. The next step is to establish an official business continuity framework. This is a document that will outline your step-by-step disaster preparedness plan.
In the business continuity plan, you should have a team to implement the recovery policies. As a small medical facility, you'll be the head of the group comprising other influential experts in your organization.
A relocation plan should also be incorporated. New locations will form where your medical facility will continue delivering services if it experiences extreme natural disasters or sustained cyberattacks. Other essential aspects include backup technology as well as disaster recovery vendors.
4. Implement the Business Continuity Management Plan
Your medical facility should be prepared to implement its formal business continuity plan. In this step, you should institutionalize the teams, actions, as well as outsourced services highlighted in step three.
Your employees should be familiar with all the backup and replacement strategies your organization will implement in case of a disaster. Ensure that all the workers and the BCP teams know the new backup technologies for a seamless recovery.
5. Testing the Business Continuity Plan
Testing your continuity plan is the final part of your preparations. Next, you need to make sure that all the employees in the organization continuously test and practice their roles for efficiency and effectiveness.
Pre-planned mock emergencies will be the best technique for testing your BCP. They'll offer insight into the effectiveness of your plan and the possible areas of improvement.
Remember, threats are constantly changing. Therefore, you should also review and improve your coping mechanisms. It's the only way you will respond to the growing dangers of cyberattacks.
How Can NetTech Consultants Help in Business Continuity Management?
At NetTech Consultants, we focus on assisting small and medium companies in Jacksonville, Florida, in managing data backups and disaster recovery. In addition, we'll help you test your data backup and disaster recovery plan to ascertain the effectiveness of your medical facility if disaster strikes.
As an IT support company, we want to handle the technical aspects of cyber security as you focus on what matters-attending to your patients. We'll provide extensive support and total satisfaction in:
Network support
Computer and mobile support
Server support and
Managed IT support
Are you worried about the growing cyber security attacks in the healthcare industry? Contact us today for a productive and collaborative business continuity plan.