Are you searching for one of the top IT companies in Jacksonville FL? IT issues can easily disrupt your team's workday. Without a resolution, even minor problems can hinder your employees' productivity, resulting in lost work hours and revenue. Attempting to forcefully tackle these issues may consume significant time with limited success. Ignoring system problems may escalate into more significant issues that are best avoided.
Choosing a second or third-tier provider might not provide the necessary expertise. To address your IT issues and challenges, you need work with one of the top IT companies in Jacksonville. These companies can work with you to devise a strategic IT plan to drive your business forward.
To save you some time, we've created a list of some of the best IT providers available in the Jacksonville market. Now you can easily select the best one for your needs.
The Top IT Companies in Jacksonville FL
1. NetTech Consultants, Inc.
NetTech Consultants, Inc. is a top-ranked IT company in the Jacksonville. They actively improve their customers' businesses with technology. NetTech aims to avoid technical issues before they happen. They take a proactive approach to IT support and deliver fully managed IT solutions.
NetTech provides managed IT and cybersecurity solutions to help small and medium-sized companies manage their IT needs. NetTech serves as a fully outsourced IT department and technology partner. NetTech helps their clients stay productive, keep costs and complexity low, and maintain operational efficiency .
NetTech makes its clients more efficient by providing Office 365 cloud solutions and support. In today's world, employees need to be able to work from anywhere and access their documents seamlessly. Creating this integrated technology ecosystem while maintaining security, and system stability is no easy task. NetTechs team of experts have more than 30 years in business and track record of providing practical and efficient technology solutions is unparalleled in the Jacksonville market.
NetTech has established itself as an industry leader in areas like health care, real estate, supply chains, construction, finance, and nonprofit. They have the organizational skills to support large organizations with IT project management and lifecycle management solutions.
NetTech can help you procure, maintain, and support, IT hardware like:
Computers
Servers
Firewalls
Switches
Laptops
Mobile Devices
And more!
If you're looking for an IT company in Jacksonville that's known for its friendly service and technical expertise, look no further than NetTech Consultants. 

2. ICX Managed Services
ICX Managed Services offers enterprise-level solutions to small and mid-sized businesses in finance, insurance, logistics, faith-based organizations, professional services, among others. The company strives to ensure business continuity, especially during times of catastrophic interruptions. 
The company has been in operation since 2010. They focus on helping clients improve company and employee efficiencies by utilizing a well-managed IT infrastructure. The company's solutions are supported by enterprise-level tools and robotics, alongside expert advice and support from trained and experienced professionals.
ICX extends its services to its customer's entire IT department and can alternatively supplement existing IT functions. The aim is to reduce business risks and costs associated with maintenance, outdated technology downtime, personnel succession, solution design, and implementation, as well as staff training.
3. 4Quarters IT
Another one among the top IT companies in Jacksonville, FL, is 4Quarters IT. The professionals provide IT services to small and medium businesses to increase their competitive advantage through cost-effective and high-quality technology solutions. Whether you're one of their ongoing clients or looking for the necessary IT assistance, 4Quarters IT promises to stand committed to you when you need them the most. 
4Quarters offers cloud services to make it possible for businesses to move their entire server from on-premises to off-site data centers while still enjoying the speed and accessibility of on-site servers. 4Quarters is a full-service IT partner that strives to ensure your company stays on the winning side.
4. Compass MSP
Compass MSP provides IT support and solutions designed to help businesses unleash their full potential. Compass is a national brand and a leader in the tech industry. The company uses one of two strategies to help companies to achieve their goals. The AutoPilot strategy works best for businesses looking for a partner to lead their technology operations and strategy. The team takes over all your IT operations, leaving you enough time to focus on core business aspects. 
The other strategy is the Copilot IT support. This is where Compass MSP partners with your IT manager to support IT vision and initiatives. In the spirit of true partnership, the company shares all its IT resources with its customers to help them maximize their impact without the additional cost burden.
5. iVenture Business-Friendly IT
iVenture Business-Friendly IT company works with business leaders and IT managers to provide managed services, cybersecurity, and cloud solutions to companies with 10-1,000 employees. 
The company has been in operation since 2000, and you can trust its expertise and experience in providing IT solutions. For all these years, the company has been on a mission to deliver a reliable and superior IT experience, giving professionals more time to focus on what matters most. Since its founding, the company strives to keep business personal for its clients, a factor customers feel and appreciate.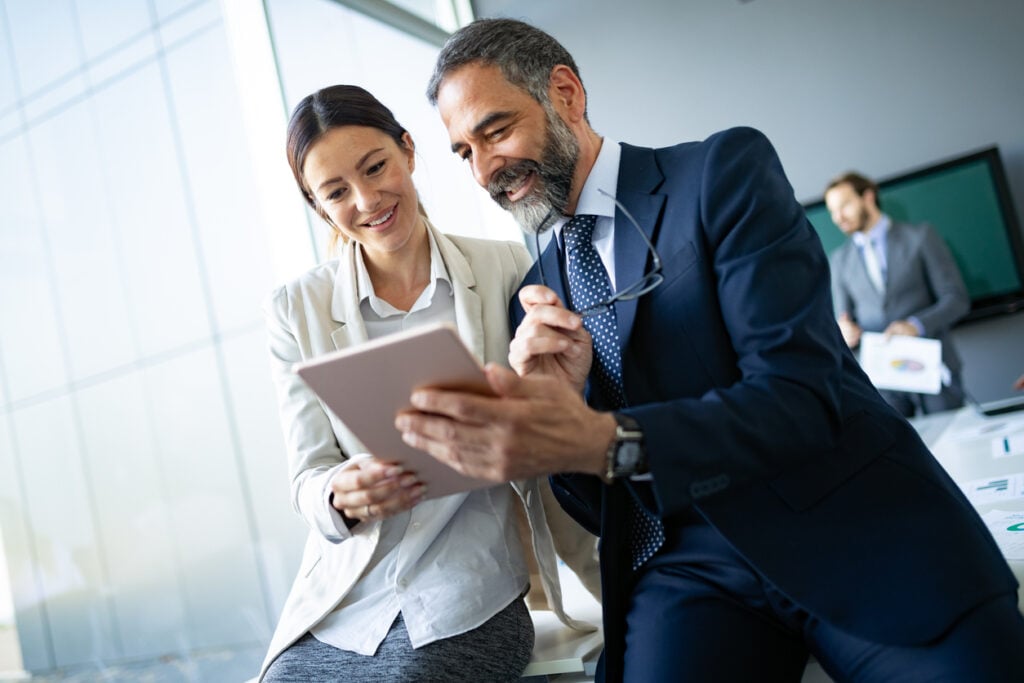 6. DPC Technology Support
DPC Technology Support has for the past 25 years been providing outsourced IT and network implementation solutions and computer support to businesses throughout Georgia and Florida. The team boasts 100 years of combined experience in the field, with extensive knowledge in helping companies find the right IT solutions. 
The company takes a proactive approach to business IT networks, identifying strengths and weaknesses as well as developing a customized plan to maximize its client's technology budget. DPC takes pride in creating lasting relationships with clients to ensure their satisfaction. Their focus is on business growth, optimized efficiencies, as well as productivity for the clients.
7. Techspert Services
Techspert serves small to enterprise-level companies in Florida. Their areas of specialization include managed network services to ensure your business is always connected to its networks to reduce downtime. The company also provides proactive monitoring of your systems and networks to identify vulnerabilities and patch them before they wreak havoc. 
They also help companies virtualize their entire business structure for disaster recovery. Data backup and recovery are also part of what the company does for business continuity after an interruption. Their crystal clear voice, uninterrupted service, innovative IT solutions, as well as exceptional support are at the core of every IT solution they provide.
8. TeamLogic IT
TeamLogic IT is a local IT company with a national presence. The team at the company aims at helping businesses stay safe, productive, and profitable by using smart technology solutions. For the last 15 years, the company has provided a high level of security and availability for all clients in Florida. 
The company is a national provider of IT services and solutions for businesses in various sectors. Its primary focus is providing solutions tailored to clients' unique needs. The team's philosophy is working with customers as they would like someone to work with TeamLogic IT.
The company boasts a service-oriented approach to business, which is the driving force behind its business. The team also believes in being professional, reliable, and trustworthy to remain the go-to IT partner in the long haul.
9. Brightlink Technology
Brightlink Technology is the proactive managed IT solutions provider in Jacksonville, Florida. Dependability is the word that the company's customers closely associate it with, knowing that they can get cost-effective and efficient solutions. 
The company works by offering the most advanced products tailored to fulfill your professional business needs. The primary goal is to ensure your business never experiences lost productivity because of downtime, cybersecurity threats, or outdated systems.
When you first reach out to them, they invest some time identifying your unique business needs to provide the best service. They will then offer a solution that matches that need after providing accurate feedback on the necessary steps. Finally, they will implement the solution and monitor it to ensure it delivers the desired results.
10. Landon Technologies
Landon Technologies has been providing reliable IT services for over 16 years. The company prides itself in being the solution to every technology challenge your business faces. Hence, being ranked among the top IT companies in Jacksonville, FL. 
The company's range of services includes functioning as the primary IT department for smaller businesses to engaging in supplemental IT support for large organizations. Landon Tech has an ample supply of IT expertise and knowledge. With a profound focus on Cybersecurity services and a get-it-done attitude, the affordable monthly support plan provides your business with the IT support it deserves. 
11. CMIT Solutions
CMIT Solutions positions itself as a reliable IT provider and your company's strategic technology advisor. The team comprises more than 900 business leaders and technical staff dedicated to providing the best IT support. The company has been in operation since 1996 as an IT support provider to individuals.
In 2008, CMIT embraced the managed service provider model, focusing on delivering the best IT support to local companies. The company is not afraid to go the extra mile without a second thought to exceed customer expectations. 
12. Antisyn
Antisyn is an award-winning IT services provider that's been featured on local news channels discussing topics like cyber security and the latest scams. Founded in 2008, Antisyn partners with small and medium businesses in Jacksonville to better support their current IT needs.
Antisyn has established themselves as one of the top it companies in Jacksonville. They have won the fast 50 award for fastest growing businesses in Jacksonville 3 times and been ranked in the MSP 501 by channel futures 6 times. Learn more about Antisyn's accolades and press accomplishments and see why they are one of the top it companies in Jacksonville.
13. TruTech
TruTech is a member of the JaxUSA partnership, the Northeast Florida Builders Association, and both the Jacksonville Chamber and St. Johns County Chamber. They are involed in the Jacksonville community and support the real estate industry with IT solutions. For nearly 20 years, TruTechnology has helped companies align their IT with their business goals, increase day-to-day efficiency, and ensure they are protected against potential data breach.
14. Scarlett Culture
Scarlett Culture is a full service IT firm in the Jacksonville area and has been providing an excellent customer experience for over 15 years. Founded and built by Information Technology Auditors, The Scarlett Group is unique.
Scarlett's governance, controls, processes, security and approach are next-level. Scarlett Group take an auditor's view, not a break/fix or product perspective. They are true, trusted partners. They don't come with point solutions or band-aids.
They advise on strategy and implement affordable solutions tailored to each client. Their goal – provide an excellent customer experience.
Reach out to Scarlett Culture if you have compliance requirements at the top of mind from your IT provider.
15. Axiom Tech
With 18 years of IT experience, Axiom Tech in Jacksonville has become the trusted IT partner of choice for businesses of all sizes across Florida. At Axiom they don't just solve IT problems, they prevent them. Axiom takes pride in helping Florida businesses so they can run smoothly and scale with ease.
Axiom believes in educating their clients on best IT practices so they can make informed decisions. Strong foundations are built one solid brick at a time and they carry this philosophy through to everything they do. Learn more about why Axiom Tech has established itself as one of the top IT companies in Jacksonville FL.
16. Venture Pointe
Venture Pointe is a local IT service company located in Jacksonville FL that provides IT solutions for businesses of all sizes. Their leadership has over 50 years of combined experience in the Information Technology industry.
Venture Pointe is staffed with technical experts who are trained to handle all levels of technology needs. By staffing the most qualified people possible and maintaining a stringent in-house training program, their team has seen and fixed nearly every IT problem that can arise. Each member of their support team is dedicated to providing the best in customer service and represents themselves professionally in both their appearance and in the way they approach each individual customer. Reach out to Venture Pointe to learn more.
17. GVS IT Services
GVS IT services is an IT consulting company and one of the top it companies in Jacksonville. If you're looking for smaller projects or one off work, reach out to GVS IT services. Their professional IT Consultants in North East Florida help your small business get the most out of the IT business and support you all the way!
GVS takes pride in providing excellence and consistency in the IT Services that they provide. Their team is creative, determined, and enthusiastic about achieving the highest customer service to their clients! Reach out to GVS to get help with your IT consulting projects.
18. Kusutra Technologies
Kusutra Technologies was founded in 1999 to help small businesses across the First Coast optimize their technology. They provide flat fee monthly support plans and employ cutting edge technologies. Kustura's monitoring system is housed in our their privately owned Level 4 data center which allows them to proactively address customers' needs, minimize system downtime, and better plan for future IT needs. Kusutra values the relationship with their customers and continuously seeks to bring their partners IT Solutions, Cyber Security, and Comprehensive Support.
19. Trinity IT Services
Trinity IT Services offers not only IT services and support, but also IT staffing solutions. Trinity IT Services seeks to establish trusted partnerships through client-centric technology solutions by leveraging their focus on service excellence and passionate drive for relationships with people. They are people driven, partner focused, service dedicated, relationship concentrated, and impact persistent. Reach out to Trinity if you need help with IT staffing or IT support.
Which One Of The Top IT Companies In Jacksonville FL Is Right For You?
This completes the list of it tech companies in Jacksonville Florida. We hope we've helped you condense your research process for the top it companies in jacksonville fl. Each of these providers has established itself as a leading provider in IT support solutions in the Jacksonville area.
Which IT company on the list is right for you? Reach out to a few of them and find the one that's the right fit for your businesses needs.