Migrating to Office 365 is probably an easy choice for you. After all, the application provides efficient infrastructure management, enhanced mobile access to information, and cost reduction. It is also tested and proven, with over 200 million commercial entities.
However, migrating to Office 365 is just the beginning of your digital transformation. That makes planning for support and administration of Office 365 an essential consideration. Building competency in Microsoft 365 may not be a core part of your business, yet it's a critical software suite that you and your team will likely use every single day.
This article discusses why businesses in Jacksonville should outsource their Office 365 administration and support. (Recommendations are based on NetTech experience migrating clients' content (data, email, etc.) to Office 365.)
7 Reasons You Should Outsource Office 365 Administration and Support
While Office 365 is not a core competency, it's an essential part of employee productivity. However, administering it can take up a lot of time. It's far more efficient to outsource mundane Office 365 support tasks to a specialized company that can reach economies of scale supporting it. This will allow your internal resources to focus on supporting core business functions.
Selecting such a tech partner helps your business in a myriad of ways, including:
#1 Increased Efficiency
An effective migration to Office 365 starts with the business needs analysis. Next, you prepare your Office 365 tenant and business content for migration. (Businesses migrate content from multiple sources and consolidate it in Office 365.) Then there's the actual migration and post launch support to address issues faced by users. 
At a minimum, this migration will include training activities and change management. Of course, that'll depend on your staff's internal skillset and the level of tech savviness in the business. Most businesses find the need to train their staff on:
How to use Office 365 Cloud products
Data security (preventing phishing, password hygiene)
New network infrastructure
Integrating business processes with Office 365
Outsourcing migration, administration, and support is a better fit and is an efficient allocation of resources when compared to handling these activities internally.
By outsourcing, you're leveraging the experience and skills of specialists to address any issues promptly. That, in turn, minimizes negative impacts of moving to the cloud. You're also leveraging their competency in Office 365 to ensure a smooth migration and provide an interface with Microsoft as needed, never spend another 2 hour call on hold with Microsoft again.
Furthermore, a managed service provider (MSP) can respond effectively to emergencies, as they've likely seen similar Office issues before. They'll also offer ongoing guidance, strategic adoption support, and optimal usage – to help optimize your investment.
The high levels of expertise coupled with value-added services result in increased efficiency.
#2 Save Time And Grow Faster
When migrating to Office 365, your tech team will be unavailable to perform unrelated IT tasks for a week or so. The migration duration varies with the level of experience of the IT team. Can your company afford to operate at 50% capacity during the migration?
Once migration is complete, your IT team will have ongoing time requirements for user support. Think of hours and hours a week spent on:
Resetting passwords
Managing domain issues
Recovering deleted items in mailboxes 
Configuring anti-spam protection 
Forcing users to sign out and restart
Installing office applications
Troubleshooting minor bugs and configuration issues
Then there's the time spent on training and keeping up with the Office 365 updates!
Outsourcing helps save time.  When you're in a high growth company, moving to Office 365 can be too much of a distraction for internal resources to manage when other strategic priorities loom on the horizon.
When you outsource, you're leveraging a team of experts with tools and systems in place to speed up the migration process and handle the ongoing day to day administration and support. Outsourcing also helps save the time otherwise spent on research by the internal IT team. IT managers don't perform Office 365 migrations every day and they likely are spending a lot of time researching tickets when new issues arise that they haven't seen before.
When you outsource, the IT support company is solely focused on providing Office 365 administration and support. We've done it all and seen it all and can get issues resolved quickly and keep your staff productive.
Moreover, outsourcing to Office 365 specialists will result in quality configuration, reducing any outages that can cause downtime, and security incidents.
#3 Faster Onboarding of New Hires (and Offboarding Departed Employees)
Office 365 can be a powerful tool for employee onboarding and offboarding. The cloud suite of products can help:
Schedule regular onboarding sessions
Organize live training meetings
Connect new talents with other staff
Share training materials
Plan onboarding tasks
Provide a repository of business documents
And more
When offboarding, the platform allows you to:
Prevent a departed employee from logging in accessing Office 365 services
Save the content of the departed employee's mailbox
Convert a former employee's email to a shared mailbox
Give another employee access to the departed staff Outlook and OneDrive data
Wipe and block the departed employee's mobile device
Remove or delete your Office 365 from the departed employee's devices
Delete the departed employee's user account
And more.
While necessary, these processes can be time-intensive. Outsourcing makes onboarding and offboarding faster while freeing your time to focus on your business core activities. For a high growth company this can be the difference between beating your competitors to market or letting opportunity slip by.
NetTech, a Jacksonville-based Office 365 support company, has dedicated Office 365 specialists with a wealth of experience in data retention, Office 365 licensing, onboarding and offboarding activities. We can advise your team on how to set up effective onboarding and offboarding practices using Office 365 and handle the related support needs.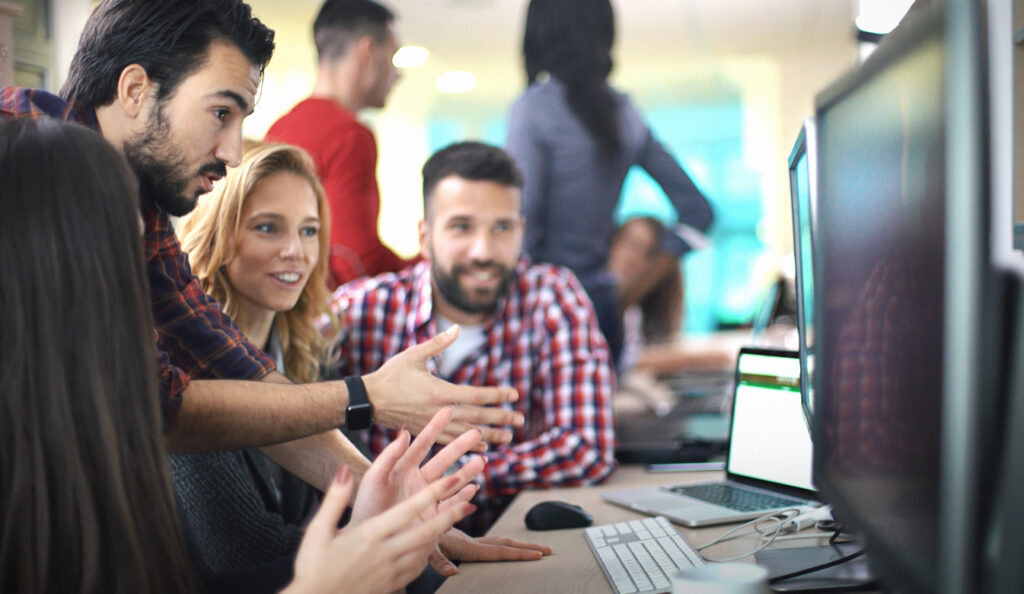 #4 Better Cybersecurity
Microsoft Office 365 is HIPAA compliant and compliant with a range of other cybersecurity regulations. Office 365 provides custom control over who can access your files and information. However, a business in Jacksonville can never be too secure. 
To ensure cybersecurity, you have to control access to your files and your Office 365 administration portal. For growth organizations in Jacksonville, that means using Role-Based Access Control. Limit your Global Admins between two and four. After all, giving unlimited access to many users increases your security risk. You should also enable multi-factor authentication on all Global Admins except for the break glass account. 
There are roles and permissions to grant that can be sliced up in a variety of different ways and custom access rules can be created to meet the needs of your business.
As your company grows a significant portion of your IT resources time will be spent managing role based access control and permissions. When your IT manager is getting pulled in 10 different directions, it's easy for this to slip through the cracks, resulting in a breach.
Besides permission management, outsourcing your Office 365 will result in better configuration. And as you know, setting your systems right from the onset is necessary for cybersecurity. NetTech has configured hundreds of Office 365 tenants and defends them from cyber attacks.
Dedicated Office 365 specialists are also better equipped to monitor, test, and deploy the non-disruptive patches and updates released by Microsoft and patching is necessary to eliminate any vulnerabilities in your platform.
#5 Better Data Backups
Another area where outsourcing your Office 365 can be handy in bettering your cybersecurity is data backup.
See, Microsoft 365 only has 30-day built-in data retention. SharePoint, on its end, only backs up data every 12 hours. In all fairness, these measures can provide some protection in a case of data loss. But they're not adequate. Of course, that largely depends on how much data you process in 12 hours.
NetTech consultants can help you by providing secondary backup and retention solutions for your business data. We can pull data from Office 365 and dump it into longer duration storage, and to additional offsite locations for additional redundancy that helps protect your business from total data loss in the event of a disaster. Jacksonville has a hurricane hit on average every ~2 years and Microsoft themselves are not immune from disaster events at their data center locations. Our managed services packages can help you manage your data backups and recovery efforts based on your company's risk profile.
For best results, partner with an IT support team that has strategically managed and supported similar technologies before.
#6 Prevent Internal Employee Burnout 
Besides migrating your business to Office 365 and monitoring the applications to ensure they're running securely and efficiently, your IT employee is also in charge of providing any related support like:
Resetting password
Recovering deleted items in mailboxes
Configuring anti-spam protection
Managing DNS on the domain
And so on.
Growth companies usually have an mid career do it all IT manager on staff, and the amount of mundane password resets, application installs, and other entry level tasks can burn your internal staff out. This is probably one of the biggest risks to a growing business because when an employee like this quits, it leaves a wake of highly disruptive challenges for the remaining staff to try and figure out. None of which are in their wheelhouse. You don't want this risk and you want to retain your in-house IT staff. Prevent burnout and keep them happy by outsourcing the day to day Office 365 tasks and let them focus on more strategically important IT initiatives.
#7 Allow Internal IT Managers to Focus on More Strategic Projects 
As mentioned, building competency in Microsoft 365 (or any new technology) may not be a core area of your business focus. It, therefore, makes sense to outsource such IT support to teams with the relevant competency. (Your strategic IT partner should have the ability to map your business needs to the disruptive Office 365 technology – for the best experience.)
Even if you have IT employees with Microsoft 365 competence, outsourcing your migration and support lets your internal IT resources focus on their core roles. That is more strategic projects.
These strategic projects, such as procurements of new software, and evaluating the capabilities of new vendors start to become a more important part of what an IT manager does at a growth company. If they aren't dedicating an appropriate amount of time to these tasks, because they are caught up in day to day entry level tasks, they may unknowingly lead your company down a path with poor vendors, and purchasing of inadequate IT infrastructure that becomes very expensive and painful to undo down the road. Let your internal IT manager focus more on these strategic priorities.
Get the Most Out of Your Office 365 Investment
Don't stifle the benefits your business can achieve with Office 365. The rollout of your digital transformation strategy with an MSP is a cost-effective way of realizing the benefits this disruptive technology has to offer – both short-term and long-term. You also get a trusted business advisor you can call to ensure your investment is up to your business needs. Think of Office 365 updates and new capabilities.
At NetTech consultants, we take the IT support a notch higher through a feedback mechanism on every IT Support ticket. Our dedicated Office 365 specialists listen to you and evaluate your business needs to help make the most of your investment. Get in touch today for cost-effective IT support on your: Outlook, Exchange, PowerPoint, Word, Microsoft teams, Excel, SharePoint, OneDrive, and more.