Tech businesses need to deliver the best quality IT services to end users. There's no better way to do so than having an IT partner to help your company design, manage, and improve the quality of services provided to end-users. IT service management (ITSM) is the strategic approach business leverage to improve how they use their IT resources. It may entail the discrete processes and activities that support IT services throughout their lifecycle. ITSM includes knowledge management, problem and incident management, asset management, and change management.
Having an ITSM partner allows you to focus on your core business while still accessing information and processes needed to provide value and accomplish essential business goals. Today, we review ITSM, its benefits, and why you need an MSP partner.
Why are IT Frameworks Important?
When implementing ITSM processes, IT frameworks can help you outline guidelines, operating principles, and best practices to help attain your business objectives. They also ensure alignment in how IT services get delivered and the value they bring.
An IT framework provides a constant set of governance practices and operating principles that help align service delivery. They protect against service delivery downtimes by outlining best practices and ensuring no critical stage gets overlooked.
During ITSM implementation, you'll encounter different IT frameworks, including:
IT4IT
ITIL
COBIT
Six Sigma
ISO2000
These IT frameworks align your operational efficiency and business outcomes. Nonetheless, each has a different focus area. For instance, Sigma Six aims at leveraging data analysis to minimize defects, while ITIL focuses on IT services management.
Uses for IT Frameworks
IT frameworks typically get paired. For instance, IT service management comprises a set of processes, procedures, and policies that help deliver customer-oriented IT services. Frameworks evolve constantly. For instance, ITIL, developed in the 1980s, has undergone multiple revisions.
When implementing IT service management, the desired outcomes typically vary from one organization to another. Two IT frameworks can't be used the same way, so organizations should develop operational controls and success metrics that minimize inefficient or redundant processes. A well-worked-out IT framework can provide the following benefits:
Enhancing resource mobilization.
Eliminating redundant processes.
Improving the reliability and availability of IT services.
Shortening response times when IT-related issues arise.
Documenting IT processes for compliance purposes.
IT Service Management Explained
ITSM primarily focuses on your customers' needs and IT services rather than the organization's IT systems. It emphasizes continual improvement, and the main idea behind it is optimizing the delivery of IT as a service. For this reason, ITSM extends beyond traditional IT support by describing the tools and processes IT teams can leverage to manage IT services.
ITSM covers all your IT resources and aligns the IT team's goals with the organization's broader objectives. This goes a long way in ensuring that the IT team's actions support the organization's overall objectives and mission.
Why is ITSM Important?
In today's interconnected business world, information technologies encompass responsibilities and tasks across the organization. Customers expect you to be up to the task continuously, so managing your IT services should be an ongoing process. Since ITSM is a collection of policies for managing and supporting IT services throughout their lifecycle, ITSM improves an organization's efficiency and employee productivity.
Regardless of the size of your organization and the industry you're in, your operations entail IT service management in one form or another. ITSM helps to ensure that service requests, incidents, changes, problems, and IT assets are managed effectively. Here are the benefits of ITSM processes for businesses.
IT service management allows your organization to adapt to innovation and changes quickly. You'll be able to react faster to market dynamics.
With an ITSM partner, your organization can provide better services at a lower cost. Besides, tech downtimes will be less frequent and less impactful. Visualizing workflows can lead to cost savings and improved efficiency. Moreover, fewer IT problems and an enhanced ability to respond to incidents faster decrease service disruption and the associated costs.
Shorter gaps between incident detection and solution prevent IT issues before they become full-blown incidents.
Provides analytics for measuring and improving your organization's IT performance.
Ensures compliance with regulatory requirements.
Increased end-user satisfaction by aligning service delivery with users' needs.
ITSM and IT Efficiency
The primary objective of IT service management is to enhance an organization's IT efficiency. It does so in the following ways:
Efficient Utilization of Scarce IT Resources
ITSM takes an all-in-one approach and encompasses your entire range of IT services to ensure efficient utilization of the typically scarce IT resources.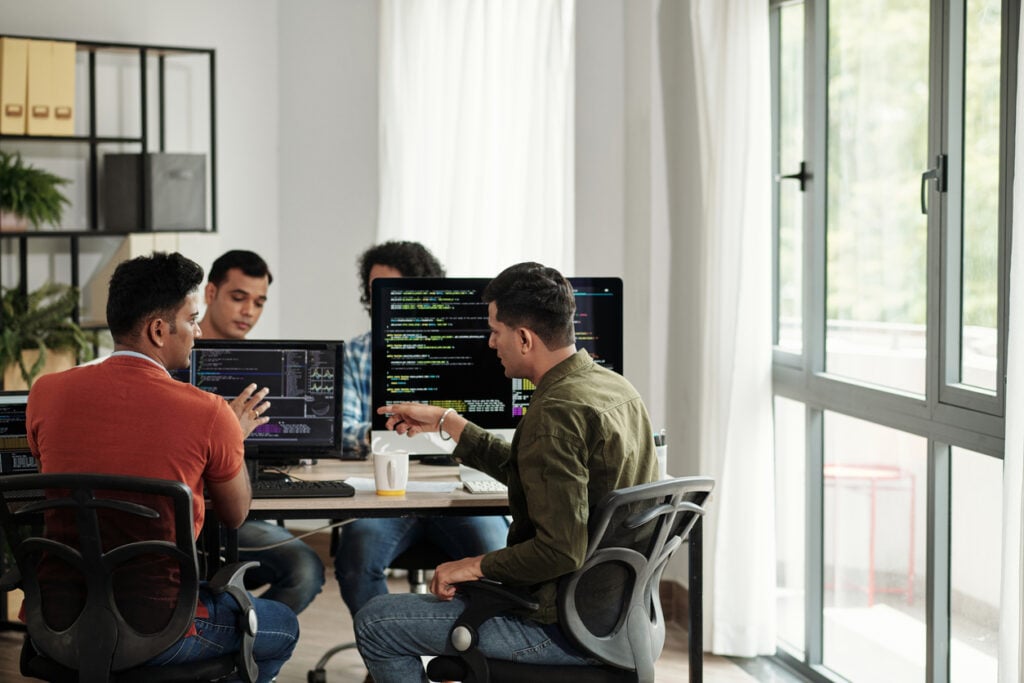 Workflow Processing
Workflow automation is a critical tenet of IT service management. Automated workflows enhance collaboration among IT teams and eliminate redundant manual tasks. ITSM minimizes and streamlines many tasks, giving your employees more time to focus on customer service delivery.
It Saves Time and Money
IT service management helps you identify and minimize/eliminate recurring problems, ensuring faster issue resolution. You can also create customized and effective responses to specific issues whenever they arise. This reduces costs in terms of money and time investments.
Reduces Downtime
A well-thought-out ITSM strategy ensures faster IT response and enhanced availability management. With fewer downtimes, your IT resources will always be in deployment to streamline business operations.
Report Generation
You can only provide quality IT services if you have a system for generating insightful reports. Reporting automation helps to make the ITSM process more accurate and cost-effective.
Service-Based Incident Management
IT service management helps you to pinpoint and respond to potential issues before they cause further problems. Thus, it increases incident visibility, response, and management.
Quicker Recovery from Critical IT Issues
With the growing number of cyber breaches, facing an attack is a matter of when and not if. There's no better way to prepare for an attack than having an IT service management strategy. It provides the resources and strategies for overcoming even the most severe IT storms. If an attack occurs, it will be easier to bounce back faster.
How to Implement ITSM Processes and Workflows
Here's a look at the best practices and operating principles for implementing ITSM processes and workflows:
Audit Your Current ITSM Operations
Before you shop for an ITSM partner, you should first pinpoint your organization's IT service goals and areas where ITSM processes are relevant. Auditing your operations allows you to select the requisite workflows, know what's at stake, and identify the potential risks involved.
Educate Stakeholders
A recent McKinsey report highlighted that 70% of IT change projects fail because managers fail to educate stakeholders. When implementing IT workflows and processes, create a change-receptive culture. There's no better way to do so than to communicate with stakeholders about the benefits of good ITSM.
Outline Critical Success Factors
While implementing your ITSM process, your team should monitor the organization's IT help desk's performance using KPIs and metrics to ensure continuous improvement. Thanks to the in-built reporting capabilities offered by ITSM tools, it will be easy for your team to generate granular and high-level data to help with decision-making and performance analysis.
Develop a Feedback Framework for End-Users
Effective ITSM strategies don't end at implementation but continually develop over time. Your organization should leverage its ITSM processes to attain defined business goals. That means collecting feedback from end users, identifying pain points, and creating roadmaps for further improvement.
Problem Management
Problem management is one of the critical ITSM operating principles. It streamlines incident investigations from discovery, problem processing, error control, proactive problem analysis, and eradication. Problem management processes in ITSM eliminate defects from your critical IT infrastructure, minimize recurring incidents, and stabilize your IT environment.
Change and Release Management
IT service management tracks planned and scheduled infrastructure changes, including your organization's planning and process management capabilities. As a critical ITSM operating principle, change implementation streamlines your IT environment while minimizing risks and errors.
Not All ITSM Partners are Equal
When looking to streamline your IT services, you'll undoubtedly need an ITSM partner. Nonetheless, it's best to remember that not all IT companies are equal. Generally, they help align your business objectives and operational setup to enhance the value and quality of your IT services in terms of capacity, security, continuity, and availability.
With a good IT services provider, you'll be able to focus on your business, knowing too well that your customers will keep experiencing the benefit of superior IT services. Moreover, you will elevate your organization to the next level. Thus, you need an ITSM partner to help you manage the end-to-end delivery of IT services to your customers.
Conclusion
Now that you've learned about IT service management, its benefits, and best practices, one thing that will run through your mind is, do I need an MSP? Well, you do because you lack the expertise and capacity to handle it all on your own, and that's where the experts at NetTech Consultants Inc. come in.
We are the go-to IT support company in Jacksonville, FL., and can provide the IT support you can trust to elevate your customer service. Our team can help align your IT services with your business goals while ensuring customers get all the support they need. Contact us to learn more about our managed IT services.