Technology is critical to your business, and when there is a breakdown, your business processes suffer. While you may not associate your company with having an IT department, your technology stack would disagree. Think of your laptops, desktops, machines on the line, mobile devices, router, network modem, and switch and what would happen if one or all of them failed to work. The situation may not be unfamiliar to you. And at that point, you have two options to get your technology up and running once again. The first option is to reach out to a break-fix IT service provider to address the issue at hand. The other option is to reach out to a managed IT service provider for a more comprehensive solution.
What is the difference? Let's delve into the details. 
What is Break-Fix IT?
IT service providers have come a long way in becoming what they are today. With the advances in technology came personal computers that presented a host of challenges in maintenance issues. Owners would dial-up IT service providers when their machines broke to repair them in the business setting. The service providers would also be available to provide a quick fix for networking problems and other IT-related issues for an upfront payment every time.
This arrangement of hiring IT service providers for one-off services came to be known as the break-fix IT model.
In this IT support system, IT service providers offer their services as requested by their clients. It typically involves a single technician who identifies and resolves issues on-site and bills the client for time and materials. In some quarters, the model is also known as fee-for-service. The technician usually charges an hourly rate for the services and charges the client for the costs of the parts.
The Problem with Break-Fix IT
The break-fix IT model may be beneficial for your business in certain circumstances. Under the right conditions, it can be profitable and effective. However, it can also be a recipe for disaster. This is especially true when your technology fails to work when you have cash flow problems. You also have to contend with several challenges, including:
Misalignment of incentives and goals
With this model, you only pay your service provider when your business has an IT-related problem. The result is an oppositional dynamic where the provider wins, and you lose.
The burden is on you to know what solution is best for the problem
The model is reactive. Before you call a technician, you need to identify the problem and determine the appropriate solution.
Downtime challenges
Waiting for a service provider to respond when you have a technical challenge creates downtime challenges for your business.
Short–lived solutions
Your service provider bills you hourly; hence the arrangement incentivizes you to choose quick and short-term fixes over long-lasting and more intensive solutions. On the other hand, break-fix service providers tend to offer short-term fixes instead of dealing with issues for good.
What are Managed IT Services
While the break-fix IT model is reactive, the managed IT services model takes a proactive approach to IT management. The term is broad and describes an IT service company that uses a more holistic approach to IT services. Unlike the break-fix IT model, managed IT service providers have a detailed service level agreement (SLA) that defines their work scope and governs the working relationship with their clients.
The model typically entails proactive monitoring and maintenance of a business's IT environment. This is to address issues before they lead to system failure or escalate to more significant IT problems.
When companies partner with managed service providers (MSPs), they transfer the risk and responsibility of maintaining and repairing IT equipment and networks to professionals. However, the approach is not the same as hiring a break-fix IT vendor to offer basic support services.
An MSP is more like a comprehensive in-house IT team. However, the pricing model is based on per device, per endpoint, or per user, which you pay at a flat monthly rate. MSPs offer their clients a full array of services and proactive solutions and not just a piecemeal solution. According to CompTIA, companies that partner with an MSP effectively cut down their annual IT costs by approximately 25%.
Benefits of Managed IT Services
The most significant benefit of the managed IT services model is that it creates a holistic, ongoing relationship between your company and the service provider. MSPs predominantly work off-premises. However, they are always within reach and use their network of systems to monitor and resolve IT issues in your business. They take action long before system failures happen, ensuring your operations run smoothly and with no or minimum interruptions.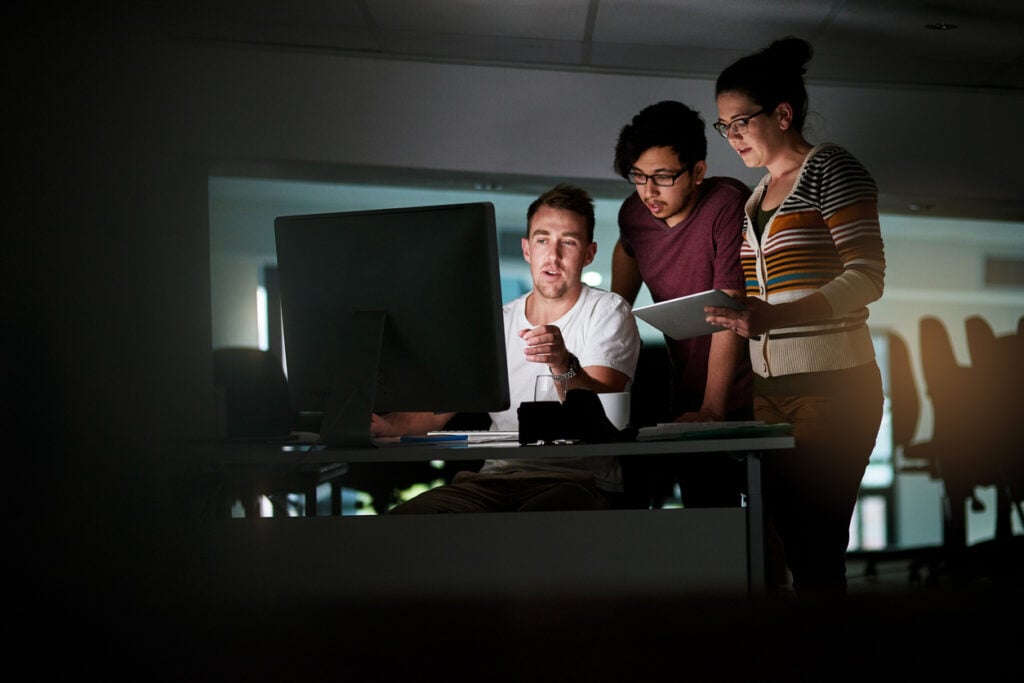 Other distinctive advantages you stand to enjoy from partnering with an MSP include:
Predictable Costs
As a subscription-based model, managed IT services provide your business with budget certainty. You pay monthly fees in increments that are typically lower than what you pay for break-fix services. The costs allow your business to have a steady expense line within your budget.
Stability
MSPs comprise professional teams that keep your IT environment secure, smooth, and stable for daily operations. Their productivity, reliability, and profitability rely on having a stable and safe IT environment within their own company. As such, you can trust these providers to be more committed to your IT's environment overall health than a break-fix technician.
Shared Ownership
MSPs have remote monitoring and management (RMM) software that makes it possible to provide off-site IT services to their clients. Shared ownership means reliable, round-the-clock services to protect your business networks and systems from data attacks. They also strive to update security against ransomware, distributed-denial-of-service attacks, phishing threats, as well as other top cybersecurity threats that face modern businesses.
Streamlined Servicing
An MSP strives to streamline its services by keeping its internal processes and service deliverables as repetitive as possible. They also use top-tire industry technology to facilitate their defense and monitoring activities for more cost-efficiency. In addition, products like professional service automation (PSA) solutions enable MSPs to save time and money, thus providing better services to individual customers.
Helpdesk Support
MSPs provide 24/7 IT support, whenever you feel the need and whatever the reason. You can reach them via chat, email, or call them to talk to an IT expert who is always willing and eager to help.
Which Model is Right for Your Business?
The break-fix IT model might be suitable for your company if:
Your IT infrastructure hardly faces IT difficulties. This is rare, given that technology tends to fail when you least expect it.
You have an internal IT team capable of monitoring, maintaining, and upgrading IT systems while responding to any arising issues.
Have a volatile IT environment, and changes in the processes and systems are inevitable.
Can handle downtime on your own when IT issues or challenges arise.
Your company doesn't want to sign an ongoing agreement for a long time.
Managed IT services are more appropriate for your company if:
Your IT environment requires the input of professional IT experts. However, you don't have the resources or capacity for an internal team.
Prefer to have predictable fixed monthly costs of maintaining your IT infrastructure.
You would like your internal IT team to have more time to focus on crucial business initiatives and put more of their skills into innovative projects.
You can't afford to see any of your IT systems experiencing downtime.
Breaking Away from Break-Fix IT
The break-fix IT model was once the standard IT service delivery model for many businesses, but providers are actively moving away from it. For the past several years, the IT environment has become more complex, requiring a proactive and holistic approach to management and security.
Besides, it makes more sense to move to a managed services model as your business grows because of the growing cybersecurity threats. Having an IT partner who monitors your systems round the clock also reduces costly downtime that comes with unforeseen system outages. It is always in the best interest of your company and MSP partner to fix the issues as quickly as possible.
Today, managed IT services entail, among other offerings:
Endpoint monitoring and management
Your IT infrastructure, remote or off-site networks, cloud environment, and on-premises IT environment require proactive monitoring and management. The function may entail automated processes for server and workstation maintenance as well as auto-remediation of IT incidents.
Backup and disaster recovery
MSPs provide data storage, backup, as well as recovery testing solutions to minimize downtime and business disruption.
Security
Their services also include keeping your devices secure with anti-malware or antivirus protection. MSPs also provide software patch management and security reporting.
Breaking away from the break-fix IT model may not be a light undertaking for your business. There are vital considerations to make, some of which require the input of an expert in the field. At NetTech Consultants Inc., we can help you assess your business IT needs and help you make the right choice in switching to managed IT services. We are here to walk with you as you begin your journey to leveraging industry-grade technology for a competitive edge. Contact us today to book a consultation.