Unless you've been living under a rock, you know too well that we're currently in the middle of a bear market. Investment prices, which were rather stable and holding their own at the beginning of the year have, unfortunately, reached their lowest level since the onset of the pandemic. Simply put, we're standing at the edge of the cliff where an economic recession could come around any time soon. That's bad news for investors and business owners alike. Rarely do small businesses thrive during an economic downturn, as was the case during the Great Recession of 2008. Outsourcing during a recession can be a powerful tool to keep your business afloat when everyone else around you is feeling the heat. One area that you should definitely consider outsourcing moving forward is IT support. In this post, we'll break down some of the reasons why.
But before we go any further, let's learn a thing or two about bear markets.
What is a Bear Market?
A bear market occurs when stock prices drop for a sustained period of time. Wall Street uses this term when an index like S&P 500 falls by 20% or more from peak levels.
You might wonder how the term "bear market" found its way into the stock markets world. Well, bears hibernate, so bears represent a market that's retreating, as has been the case since the beginning of June. In contrast, a steadily surging stock market is called a bull market, because bulls charge.
Historically, bear markets have always preceded a recession. In fact, 8 of the 11 bear markets experienced since 1948 have been followed by a period of economic downturn.
Bear markets are often a result of investor skepticism or uncertainty, but there are a few more possible causes. The weak state of the economy is to blame for the 2022 bear market. However, other historical causes have included pandemics, wars, oil price movements, overly contradicting fiscal policies, and more.
What is a Bear Market Rally?
A bear market rally is when stock prices surge during a long-term bear market. Thus, making it appear as though recovery is imminent. This type of market rally is also referred to as a dead cat bounce, bull trap, or a sucker's rally.
Bear market rallies are fairly common. Of the 26 bear markets that have occurred since 1929, 17 of them have recorded upswings, with gains of 10% or more. 
During a recession, there are typically one or more bear market rallies, even though the market still drops overall. As such, a rally shouldn't be taken as a definitive indicator of economic recovery. 
Contrastingly, a bull market rally occurs when stock prices are rising and there's general optimism that the trend will carry on in the days to come. It's considered the default type of market rally.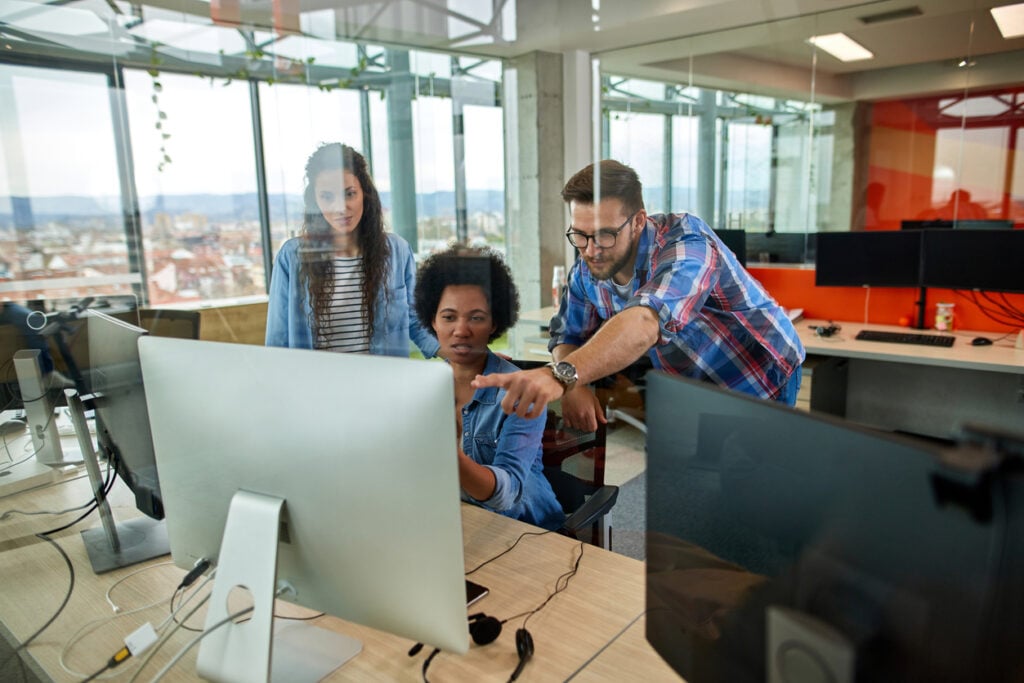 Why You Should Outsource IT Support in a Recession
As we mentioned earlier, bear markets are often a sign of an impending recession period. You cannot completely foolproof your business from the eventualities of an economic downturn. But you can at least prepare for what's coming. In fact, there's no better place to start than outsourcing your IT support.
Here's how outsourcing IT in a recession can benefit your business:
1. It's a More Cost-Effective Option
When recession strikes and uncertainty reigns supreme, you have no option but to make the most of every penny at your disposal. Else, you risk running into cash flow problems when customers inevitably churn.
Outsourcing IT support gives you the leeway to cut down your spending for those tasks that don't require full-time assistance. You only pay for what you absolutely need at any given time.
For instance, if you own a boutique medical practice, you can outsource tasks such as system optimization, network support, Office 365 support, business continuity management, and so on. Depending on your provider, you'll find that you're incurring much lower variable costs on these tasks. This is compared to the amount you would have paid for a fully operational in-house IT team. You can then redirect the additional funds to more mission-critical functions, such as marketing and advertising. Before you know it, you'll have successfully steered your practice away from the pangs of recession and possibly even made a profit.
2. It Allows for Optimum Operational Efficiency
While unfortunate, workforce downsizing during a recession is almost always given. No business owner wants to bear the expense of an under-utilized team when the economy is spiraling out of control. You need your costs to be flexible.
Obviously, the biggest victims of any kind of downsizing are low-level employees. Since your business—like many other businesses—can't fire valuable and experienced team members, you'll inevitably have to lay off those that aren't productive, including those in the IT department.
However, due to this inevitable trade-off, the low-value IT tasks start piling up, which eventually drives down your team's productivity. Your most valuable members will find themselves handling those meager (but important) tasks and neglecting those that truly move the needle for your business. One of the best ways to prevent this scenario from happening is to outsource IT support to a proven, well-equipped provider even before the recession kicks in.
3. Employees Get the Benefits They Deserve
If employees worry about one thing in a recession, it is the loss of certain benefits. While this situation is hardly advantageous to a business, it's way more detrimental to an employee's input and motivation. The last thing anyone wants in the middle of an economic downturn is to have their benefits revoked.
By outsourcing IT support needs to the right company, you can save up on the money you typically use to run that department and channel it to the remaining personnel instead. When employees realize that their benefits will remain untouched amid a recession, they'll do everything in their capacity to keep the business afloat. Remember, a happy employee is a productive employee.
4. Ready Access to a Diversified Pool of Experts
A bear market and recession in general is a time to be extremely cautious of who you're doing business with. There's no room for laxity, and one minor mistake in your hiring endeavors could see your business sink into dangerous levels of unprofitability and stagnation. With that in mind, it pays to partner with a certified and prolific IT consultant. In other words, retain an MSP at your earliest opportunity.
When partnering with a Managed Service Provider, you're hiring a team of experts that have a broad and extensive set of pooled experiences, certifications, and knowledge base of existing and upcoming technologies. You're hiring top-level consultants who simply won't sit by and watch your business tumble.
An experienced MSP can use their expertise to help formulate a tailored solution designed specifically to help your business weather the storm that's synonymous with an economic downturn. Additionally, because MSPs are held accountable through Service Level Agreements (SLA), you can rest assured that they'll utilize industry-best practices to establish proven workflows and processes, not mediocre ones. This translates to increased uptime for your business, as you'll always be well-informed, well-advised, and well-positioned to respond to any uncertainties that may pop up along the way.
What is a True-Up?
Given we've exhaustively discussed what your business stands to gain by outsourcing IT in recession, it's only prudent that we tackle true-ups—a critical factor in the quest to consolidate funds and keep your business afloat.
In the context of IT support, a "true-up" is basically a way to align costs with current firm conditions. It largely involves reconciling licensing counts, hardware, and current headcount, so that you remain with the actual number of resources consumed that you should be paying for at any given time. True-ups are typically done at regular intervals, often quarterly or annually.
Why should you consider a true-up during a recession? Well, MSPs are often priced based on the number of employees, so if your business contracts or grows rapidly, you can scale up and down your technology spend as needed. This is undoubtedly a great way to save on costs and maintain stability during shaky times.
Final Thoughts
Keeping in mind that we're already grappling with a bear market and possibly on the verge of recession, outsourcing IT isn't just important at this point; it's mission-critical. There's no need to fret, though, as there's still time to adjust accordingly and do your due diligence. A good IT provider won't just bring unparalleled expertise to your IT environment; they'll also help you with a range of IT tasks, and at a predictable cost based on your current employee headcount. The best time to act was yesterday. The second-best time is today. All in all, you got this!
Looking for a Jacksonville-based IT support provider who's got you and your business's best interests at heart? NetTech Consultants, Inc. is only one phone call away. The best part is that we also double up as a trusted MSP with a 97% customer satisfaction rate. Why wait for the recession to find you unprepared when you can do what's best for your business today? Contact us today to learn more about our service offerings!